We're coming to the halfway mark of our summer days but that's no indication of things coming to a head. In fact, events all over the city are still ramping up so there's no reason for anyone to be hiding indoors – no reason whatsoever! Expect to spend August indulging in some of the city's best brews, sweets, cultural cuisines as you while away the afternoons into the evenings with some great tunes or theatre.
That's only our suggestion, anyway. Here are five of our hand-picked events you probably shouldn't skip out on.
This event is the perfect way to celebrate the long weekend to bid July farewell and welcome August with a few sweet beats, activities and performances in honour of the Carribean culture. There will be an enticing lineup of film, dance and music as well as some markets, across all four days over the long weekend.
Something of a Fringe Festival for the 'aesthetically tuned', "SummerWorks encourages risk, questions, and creative exploration while insisting on accessibility, integrity and professionalism. SummerWorks is the place where dedicated, professional artists are free to explore new territory and take artistic risks. Rather than getting larger, we strive to get better. We look to introduce professional artists from diverse communities to each other and be inspired by our similarities and differences."
Sounds pretty awesome, we think.
We want to be down in Greek town on the 7th to 9th August! TOTD is Canada's largest street festival (we just learnt this by the way) and attracts around 1.6 million people each year. You can virtually feel the energy oozing out of this year's program, which includes Guinness World Record challenges, Sporting challenges, a bit of the Hollywood experience and of course, stage performances. Did we mention the food? Oh yeah. It's all about the food.
Craft Beer Festival at the Roundhouse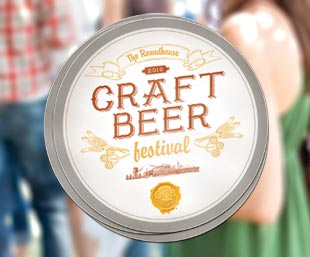 Roundhouse Park is going to be littered with Ontario's best craft brews and food trucks on the weekend of 8th and 9th August – we know, it's going to be tough comp with Taste of the Danforth, but we have faith. It will be a different scene however, and will be likened to more of a picnic if that's your style.
If you're really into home brewing and small scale production this is an excellent place to talk to the best brewers around.
And as if there wasn't enough food going around in August – the Sweetery takes place mid month! But of course we saved the desserts last. This inaugural event will take place on Front and Portland Street downtown. As well as a showcase of Toronto's best confectionery vendors, there will also be contests and demonstrations from George Brown Pastry chefs. So basically, all those guilty with having a sweet tooth with be outed here. Yes, that's us.